NOTE: GHPS is open for clients with qualified backup staff!

Jean Judy's Gig Harbor Pet Sitting provides professional, affordable dog and cat care right in your home. Your pets can stay in the comfort of their own home where they feel safe and secure. They will also receive the personal attention and playtime, hugs and fun they so deserve! You won't have to impose on friends or neighbors to care for your pets, and you'll be able to keep your pet away from kennels where they may pick up a variety of illnesses.

Jean also provides Plant Sitting and Home Security checks while you are away on vacation!

Call 253-905-3333 for more info on Gig Harbor Pet Sitting!

After 33 years as a stewardess/supervisor for American Airlines, since 2006 Jean has been providing quality pet sitting in your home for dogs and cats.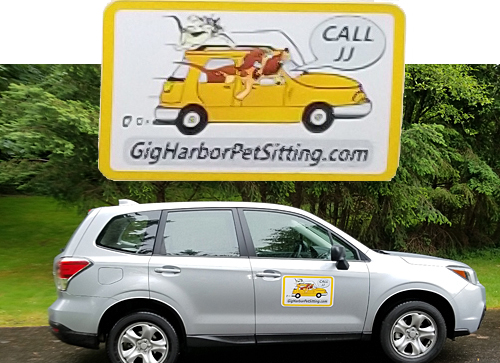 Watch for Jean buzzing around Gig Harbor in the PetSitter-Mobile!
PROFESSIONAL PET/HOME SERVICES OFFERED:
Fresh Water & Food
Potty Breaks for Dogs
Litter Box Maintenance
Text/Email Updates Provided

Security Checks
Adjust Blinds & Lights
Bring in the Mail & Paper
Water a few Indoor Plants

Lots of Loving Care!

PLEASE CALL FOR SERVICE RATES:
Multiple Visit Discounts Available
Free initial consultation.
All service rates may vary due to length of service.


ADDITIONAL SERVICES AVAILABLE:
Pet Taxi to the Vet or Groomer, Pick up Pet Supplies,  
Indoor & Outside Plants Watered, Home Security Checks.

"Don't you dare leave me with anyone but Gig Harbor Pet Sitting!"

Serving Gig Harbor, Fox Island, Olalla. All visits performed by Jean Judy or associates personally, with qualified back-up assistance available as needed. We happily take care of your dogs and cats, pet birds and aquarium fish. Sorry, I am not able to care for your reptiles or large mammals.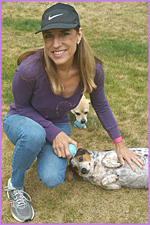 NOTE: Jean does not do overnight pet-sitting, dog walking or give shots. However, MEET NANCY, our newest associate. She has extensive pet-sitting experience, and is outstanding handling dogs. She will be our primary dog walker. She attends to cats, too. On a limited basis, Nancy will take dogs into her home. Contact us for availability.
References available by Bayside Animal Lodge, Harbor Animal Hospital, Evergreen Animal Hospital and Brookside Veterinary Hospital.

Gig Harbor Business License: # 602-300-822
Proud Supporter of Prison Pet Partnership Program
Best Friends Animal Society
Spay & Neuter Programs
Pet Chamber of Commerce





Meet My Family:

Hollie Bear


BELOVED FRIENDS WHO HAVE CROSSED THE RAINBOW BRIDGE:
(Gone But Never Forgotten

Blaze Von Tschudy
AKC Champion, Veteran Division Winner

Our beloved Kody Von Tschudy crossed Rainbow Bridge

Kumu Khalani
18 years old




&nbsp &nbsp




Call 253-905-3333
Email: Stewpiper@comcast.net





Testimonials

|

Services

|

Links

|

Home

Keywords: pet sitting, pet sitter, petsitting, petsitter, Gig Harbor, Fox Island, Olalla,
98335, 98332, 98333 house sitter, house sitting, housesitter, housesitting,
Gig Harbor, WA, dog care, cat care, pet care, plant care, home security checks.



web site design & hosting