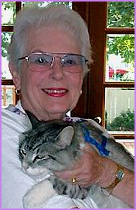 Jean Judy's Gig Harbor Pet Sitting provides professional, affordable dog and cat care right in your home. Your pets can stay in the comfort of their own home where they feel safe and secure. They will also receive the personal attention and playtime, hugs and fun they so deserve! You won't have to impose on friends or neighbors to care for your pets, and you'll be able to keep your pet away from kennels where they may pick up a variety of illnesses.

Jean is also available for Home Sitting, as well!

Now available: Qualified overnight pet service. 

Call 253-905-3333 for more info on Gig Harbor Pet Sitting!

NOTICE: Seeking experienced and qualified part-time pet sitters/contractors. Please contact for more information.

After 33 years as a stewardess/supervisor for American Airlines, since 2006 Jean has been providing quality pet sitting in your home for dogs and cats. Jean is the owner of Peninsula Pet Food & Accessories, your local source for holistic dog and cat food, and has been a vendor at dog and cat shows for the past 15 years. She is the local representative for Flint River Ranch Pet Diets, grain-free and all manufactured in the USA, with free delivery directly to your door by UPS. All ingredients are from the USA except Lamb products from Australia. FRR has never had a recall on their pet products.
PROFESSIONAL PET/HOME SERVICES OFFERED:
Fresh Water & Food
Potty Breaks for Dogs
Litter Box Maintenance
Administering Medications
Text/Email Updates Provided

Security Checks
Adjust Blinds & Lights
Bring in the Mail & Paper
Minor Household Tasks
Water a few indoor plants

Lots of Loving Care!

SERVICE RATES:
Starting rate per visit......... $17.00 (one or two pets)
Additional pet......... $5.00/per visit
Two visits daily......... $32.00
Thanksgiving & Christmas Days......... $10.00/per day extra
Dog Walking (30 minutes): One dog, $15.00; Two dogs, $20.00
10-mile round trip from downtown Gig Harbor complimentary.
Additional fuel charge $0.25/mile over 10 miles R/T.
8.5% state/local tax applied to total amount.
Multiple Visit Discounts Available
Free initial consultation.
All service rates may vary due to length of service.
ADDITIONAL SERVICES AVAILABLE:
Pet Taxi to the Vet or Groomer, Pick up Pet Supplies,  Summer Outside Plants Watered. Etc.
Call for overnight pet/home sitting rates.
Serving Gig Harbor, Fox Island, Olalla, Port Orchard, North Key Peninsula. All visits performed by Jean Judy personally, with qualified back-up assistance available as needed. We happily take care of your dogs and cats... other pet species considered... rabbits, hamsters, gerbils, guinea pigs, chinchillas, small birds, aquarium fish, etc. Sorry, I am not able to care for your larger parrots, reptiles or large mammals (referrals available for the care of these animals).

Jean Judy is also the area representative for Flint River Ranch dog and cat diets. Contact Jean to purchase the highest quality diets available for your pets: premium, all-natural, no-grain, Flinto River Ranch products.
References available by Harbor Animal Hospital, Evergreen Animal Hospital and Brookside Veterinary Hospital.

Gig Harbor Business License: # 602-300-822
Proud Supporter of Prison Pet Partnership Program
Best Friends Animal Society
Spay & Neuter Programs
Pet Chamber of Commerce





Meet My Family:

Hollie Bear

IN MEMORIAM:
(Gone But Never Forgotten)


Blaze Von Tschudy
AKC Champion, Veteran Division Winner

Our beloved Kody Von Tschudy crossed Rainbow Bridge

Kumu Khalani
18 years old






"Don't you dare leave me with anyone but Gig Harbor Pet Sitting!"


Call 253-905-3333






Testimonials

|

Services

|

Links

|

Home

Keywords: pet sitting, pet sitter, petsitting, petsitter, Gig Harbor, Fox Island, Key Peninsula, Olalla, North Key Peninsula,
South Kitsap Peninsula, North Tacoma, 98335, 98332, 98329,98333, 98395, 98349, 98359, 98351, 98366, 98367, house sitter, house sitting, housesitter, housesitting,
Gig Harbor, WA, dog care, cat care, pet care, Peninsula Pet Food, pet food, Flint River Ranch, JJ's Purr-fect Tail-Wagn' Express



web site design & hosting


2012